Alright, I know this blog has been a little bit lacking in excitement since all of its contributors are super-busy with this college transition. The one thing I never predicted would happen in college is how cut off I feel from the rest of the world. College, especially in such a huge Big 10 school in a tiny college town, is a very isolated world. You feel cut off from the news, the world, the city (oh how I miss city life..), and sadly, you even feel cut off from the fashion world. The only thing to remind me about fashion everyday is the emails piling up in my inbox from Style.com and She She Me.
Anyways, the point that I keep trying to make here and getting distracted from is that it's almost like college is this completely separate world from the real world and fashion is quickly forgotten about here. Most girls typically dress down for class in sweats and tshirts, but compensate by going all out and dressing up at night to go out. This is not New York City, and most girls don't subscribe to my belief that everyday is a fashion show. However, the key to standing out and looking cute is just a few simple touches...and you can still be comfy. My favorite part? Flats, of course!
Flats are the one thing that have been so useful to me since coming to college. I walk a LOT since I don't have a car--to parties, friends' dorms, the gym, the stores, the dining hall, to classes--I have to walk everywhere. I've seen many a girl toughing it out in stilettos trying to look cute, but is the pain really worth it? There's no reason you can't be cute and comfortable in flats. Some of my favorites:
The po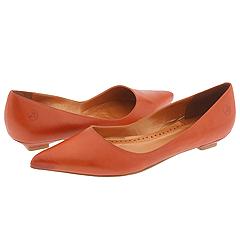 inty toe.
I love this shoe from Bronx, available on Zappos.com. It's sleek, chic, comfortable, and has an eye-catching blast of color. Perfect for dressing up your favorite jeans or denim mini.
The Ballet Flat
. I am absolutely in love with this red Millie ballet flat from Payless. It's extremely cute (I've gotten tons of compliments on mine) and at just $15, it's extremely cheap. You really can't go wrong with this one!
The Moccasin
. These are probably the toughest to pull off, possibly because they can easily go wrong and make one look like a frumpy old lady. But with the right pair, they can look tres chic and smart--a perfect look for class. These Ugg moccasins are a little pricey but certainly cute and comfy!
What to Pair your Flats with...
Flats are extremely versatile and can go with almost anything, but here's some suggestions:
-Skinny jeans, for a look that emanates cool without saying a word
-A denim mini, to offset the shortness of the skirt
-Black pants, to add a fun pop of color to a serious dressy outfit
Coming soon: cute and comfy shoes posts on boots and heels!
Labels: college fashion, college life, shoes