THE BEST: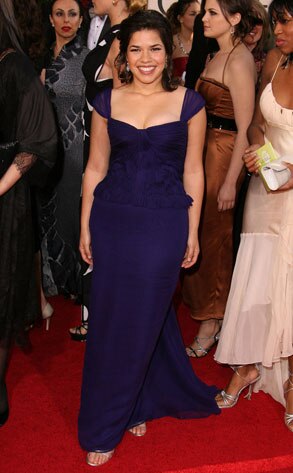 America Ferrerra
was absolutely gorgeous in a perfectly cut purple gown and she was just glowing. When she won her award she was so adorable. I love this girl!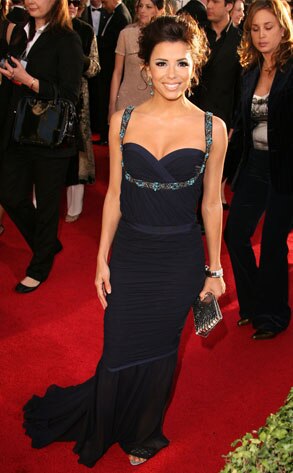 Eva Longoria
has made some questionable fashion choices in the past but played it safe last night in a gorgeous, flattering navy blue gown.
Felicity Huffman
may play a tired, kind of haggard housewife on Desperate Housewives, but she looked gorgeous last night in this flowing gown.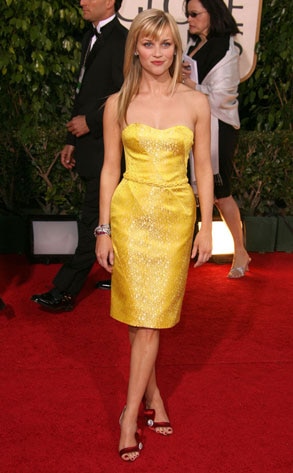 Reese Witherspoon
took that stage to present her award and literally personified the statement "Looking good is the best revenge." She. looked. stunning. I bet Ryan Philippe is eating his heart out right now. Idiot. Oh, and the shoes? Amazing. Cameron Diaz, on the other hand, kind of went the opposite direction as Reese (see below).
Evangeline Lily
was my favorite for wearing something a little bold. The pale colors are muted but the pattern is different from anything else you might see at such an event and she works it perfectly.
THE WORST:
Ellen Pompeo:
Um, what the hell. Could you make yourself look any paler, sicker, thinner? The severe hair and draping, unflattering white sack of a gown just made her look ridiculous, drab, and unattractive. Ellen pompeo can be so gorgeous when she tries!! WHY does she keep picking such ridiculous outfits, and WHEN is she going to fire her (clearly high) stylist?!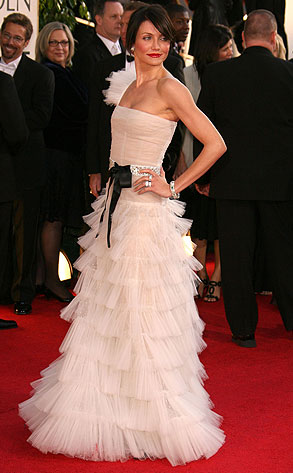 Cameron Diaz,
recently broken up from her boyfriend JT, did the opposite of Reese and showed up to the Globes looking frumpy and weird. This dress is all wrong for someone as tall and thin as her--the layers of ruffles weigh her down and hide her figure and do not flatter. Plus the one sleeve/strap is just odd. I do love the dark hair though.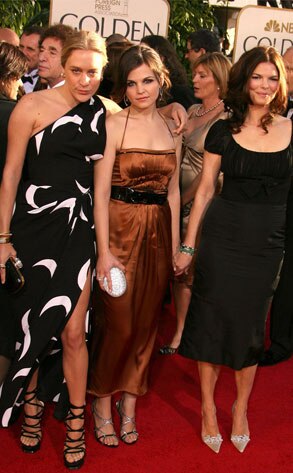 Chloe Sevigny
is supposed to be this supposed amazing style icon and everything, but I thought her dress was just an attempt to look cool, but not executed well. Plus, it wouldn't kill her to lighten up and smile. I couldn't find a picture of her alone so there you have her two co-stars. The shoes smack of bondage fetishes and the whole thing makes her look sort of like a fierce girl being forced by her mom to put on a dress and make nice.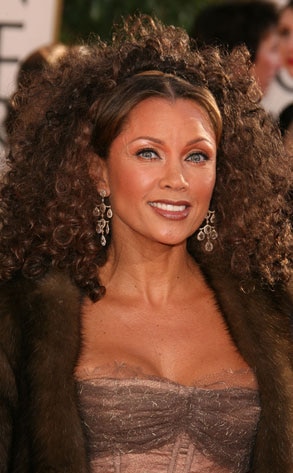 Vanessa Williams:
Honey, we all have bad hair days once in a while but NOT AT THE GOLDEN GLOBES. That ridiculous hair coupled with that outrageous fur stole just made her look kind of like a '70s cartoon character version of the real Vanessa Williams.
Other things worth noting at the 64th Annual Golden Globes: Eric Dane was extremely hot in a tux as usual but has not yet ditched Rebecca Gayheart, Forest Whitaker won best actor in a drama and surprised everyone (well, at least me), Sacha Baron Cohen's acceptance speech was all about his co-star's testicles, Tom Hanks talked way too long, and Meryl Streep gave a phenomenal acceptance speech. Blah Blah. When are the Oscars again?